Hey there! If you're a lover of timeless wood furniture designs, you're in for a treat. Wood furniture never goes out of style and has the ability to fit into almost any home decor theme. Now, imagine being able to create such pieces yourself, tailored specifically to your taste. Not only is this a fulfilling hobby, but it also saves a significant amount of money. I've compiled a list of six classic wood furniture designs that even someone without a background in woodworking can craft with the right guidance. And if you're in need of some top-notch furniture blueprints to get started, I've got you covered. Let's dive right in.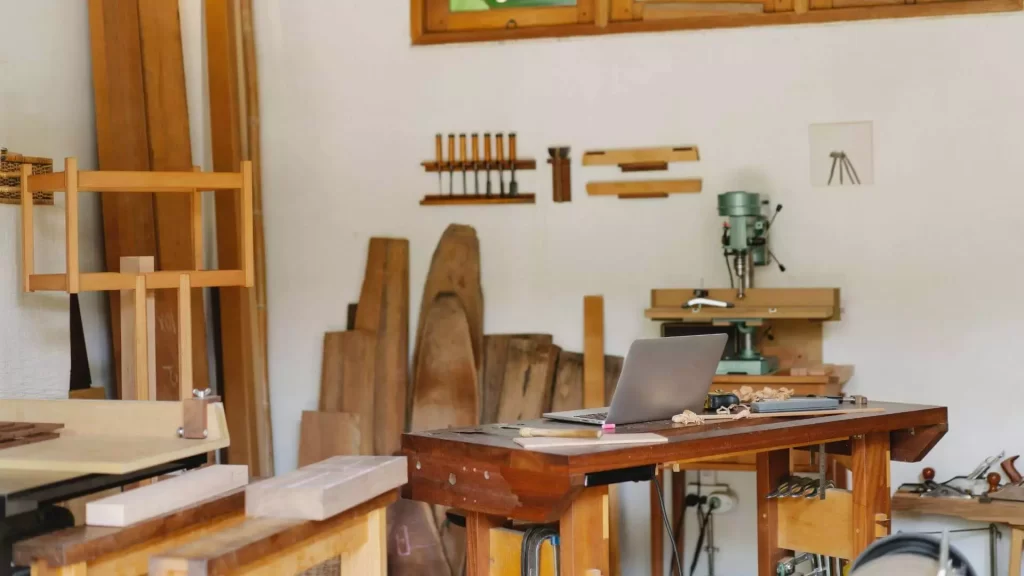 Content
1. The Classic Coffee Table
The coffee table is an indispensable part of any living room. Most designs are straightforward, making it an excellent project for beginners. Opt for a rustic look with reclaimed wood or go modern with a glossy finish. Add a bottom shelf for magazines or keep it simple and elegant.
2. Wooden Bar Stools
Bar stools are versatile. They can be used at a breakfast counter or a bar. With various designs ranging from backless to high back, from round to square seats, the options are endless. The trick is to ensure they're sturdy – nobody wants a wobbly seat!
3. Wooden Bookshelf
A bookshelf isn't just for books. It's a place where you can showcase family photos, travel souvenirs, or potted plants. Think about its placement: will it be a tall, standalone piece, or a shorter one that sits flush against a wall? Don't forget about adjustable shelves, giving you flexibility in what you want to display. Interested in optimizing kitchen space? DIY wooden shelves are the way to go, and this guide has some innovative ideas for DIY projects for a greener home.
4. Wooden Bed Frame
There's something about a wooden bed frame that oozes charm and warmth. Whether it's a four-poster design or a simple platform bed, wood adds an earthy touch to your bedroom. Remember to measure your mattress size before starting – it's a common rookie mistake to end up with a frame that's either too big or too small.
5. The Adaptable Bench
Benches are one of the most versatile pieces of furniture. They can be placed in entryways, at the foot of a bed, or even outdoors. Depending on where you want to put it, you can adjust the design. If it's for the outdoors, make sure to use a wood type that's resistant to weather. Speaking of the outdoors, wooden benches can significantly enhance your backyard aesthetics. Check out these ideas on how to spruce up your outdoor spaces without breaking the bank.
6. The Multipurpose Side Table
Side tables are great because they can be used in any room – from the living room to the bedroom. Add a drawer for additional storage or a second shelf for decoration. The design is often simple, making it another suitable project for those just starting with woodworking.
Wrapping Up
Crafting your own furniture might seem daunting initially, but with the right tools and plans, it's more than achievable. These projects can give your home a personalized touch, making each piece a topic of conversation. Most importantly, remember to have fun with it. Dive into the world of furniture making, and you might just discover a new passion.
And if you're on the hunt for reliable plans to kickstart your DIY furniture journey, this furniture craft review is a treasure trove of over 9000 designs. Trust me, once you get started, there's no looking back.
The Essence of DIY
Do-it-yourself (DIY) isn't just about saving money, though that's a significant benefit. DIY is about self-expression, creativity, and bringing a personal touch to the items around your home. When you build your own furniture, you pour a bit of yourself into every cut, nail, and brush stroke. It's an empowering experience, knowing that you've created something both beautiful and functional.
Sustainable Choices in Woodworking
As our world becomes more environmentally-conscious, DIY woodworking has an added advantage: sustainability. By choosing reclaimed wood or sustainably sourced materials, you contribute to a greener planet. Many store-bought items are made with wood from questionable sources, but by doing it yourself, you have control over your environmental impact. Furthermore, handcrafted items often last longer than mass-produced ones, leading to less waste over time.
The Therapeutic Value of Crafting
Beyond the aesthetic and practical benefits, there's a therapeutic side to woodworking. Engaging in a physical craft can act as a form of meditation, providing a break from the digital onslaught of modern life. The tactile sensation of wood, the hum of a saw, and the rhythmic motion of sanding can calm the mind. It's a way to unplug, focus, and find satisfaction in seeing a project through from start to finish.